Janitorial Services
Sanitation Services (Covid-19)
Post Construction Services
Supplier of Venetian Blinds, Vinyl Flooring, Moulding & more ….
Spotless Interiors Ltd provides both Commerical & Residential Janitorial Services. 
We specialize in office maintenance, the cleaning of ceramic, terrazzo & vinyl tiles, carpets and upholstery as well as high pressure hose services.  We also provide 'spring cleaning' services, for rental apartments and houses.
As a result of the currrent Pandemic, we now provide Sanitation Services using Vital Oxide, which has beeen approved by the EPA for use against SARS-CoV-2, the coronavirus that causes Covid-19.
We supply and install several types of Window coverings:- custom made Venetian Blinds in a wide variety of materials and designs, including wood blinds, roller blinds, dual blinds, vertical blinds and much more.  We also supply Vinyl Flooring,  Mouldings & adhesive-free Window Film.
The company was formed in 1984 by Ronald Van Putten, under the name The Spotless Company.  
It was re-named Spotless Interiors Ltd, in 2001 having expanded its core business to include the sale and installation of venetian blinds and other selected home decor and has developed an excellent reputation for reliability and on-time delivery of its goods and services.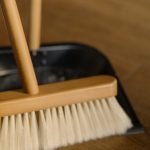 "Quality in a service or product is not what you put into it. It is what the customer gets out of it." – Peter Drucker
We say what we mean, and mean what we say. We stick to our commitments, treat everyone equitably, and communicate openly and honestly

Residential Cleaning
Commercial Cleaning

Customized Cleaning
Call us today a free quote!
"Sometimes later becomes never.  Give us a call today."